NFL @ Fore! Oxford – Weekly Pick 'Ems!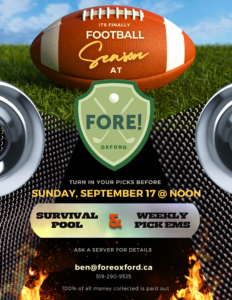 Week 3 Pick 'Em Entry Form – Download Pick Em Sheet Here
Experience NFL @ Fore! Oxford every week with full coverage of every game and chances to win cash prizes!
Our survivor pool is in full swing, alongside weekly Pick 'Em contests.
Week 2 Results
Survivor Pool
23 Entries – 12 Remaining
Week 3 Pick 'Ems
Drop off your Weekly Pick 'Ems by Noon on Sunday to the clubhouse.
$10/entry, with 100% of entry payments paid out to the winner!
Week 2 winner took home $130!