Scramble Tournament Series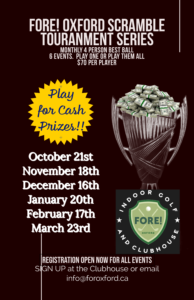 Register a team of 4 for your chance to win CASH in our monthly Best Ball tournaments.
Sign up for one, or all, tournaments!
For inquiries & registration, contact [email protected]
Schedule:
October 21, 2023
November 18, 2023
December 16, 2023
January 20, 2024
February 17, 2024
Stroke Play Tournament
Register today for your chance at a cash payout, each month! Take on your friends in a 9-hole Stroke Play, with final standings set on the 25th of each month. From there, the top 8 players will take part in a one-day playoff tournament!
Tournament Schedule:
November 5th
December 3rd
January 7th
February 4th
March 3rd
April 7th
For inquiries & registration, contact [email protected]